How to Apply

Applicants may apply to Schloss Krumbach International School throughout the year, though the preferable time to begin the admissions process is at the beginning of the academic year.
Indeed, we do encourage early applications because for our school, it is very important to make sure that not only do students meet the expectations of our highly demanding academic program, but also that the program is the right fit for each individual student. Applying in advance also gives international students sufficient time to make an informed decision, visit the school premises, start preparing for the school year in advance, and manage all the visa requirements.
The school year at SKIS starts at the end of August, yet we consider applications at any point throughout the year.
To start the Admissions Process, you need to pay the Application Fee (300 euro) and complete an Application Form below or contact our Admissions Office, at info@krumbach.school or through +43 676 54 09 630
Please note that the Fees Policy for the School Year 2024/2025 has been subject to a purposeful change!
Apply to Schloss Krumbach International School
SKIS Fees Policy

Attention! Schloss Krumbach International School has made a strategic shift in its policies on the fees and boarding:
1. Fees Policy Update: We purposefully reduced our fees to make SKIS more accessible to academically talented, socially responsible, and motivated students of different backgrounds who meet SKIS admissions criteria.
2. Boarding Policy Update: From 2024 on, Schloss Krumbach International School offers only full boarding studying options. No half boarding or day programmes will be available.
This is because our responsible and consistent strategy of well-rounded education – and implementation of our mission to protect students' childhood – is only possible if applied on a daily basis, throughout the whole school year.
Annual Fees, 2024-2025
The costs of tuition, boarding, and co-curricular student life at SKIS, paid yearly.
 

Full-Boarding Programme
€ 39 900 – € 43 680
Entry School Fees, 2024-2025
The registration and administration costs of entering the school, paid one time prior to the beginning of the first school year at SKIS.
 

Application Fee (non-refundable)
€ 300
 

Enrollment Fee (non-refundable)
€ 3 000
 

Capital Fee (non-refundable)
€ 2 000
 

Security Deposit (refundable)
€ 3 000
What is Included in Annual Fees?

As an academic and boarding institution, we strive to provide a robust unilateral framework of trust and support in which our students grow and develop into their best versions of themselves. 
Yet all of their success paths, passions and interests, are one-of-a-kind and beautifully different from each other, and we are proud of that & remain committed to fostering this diversity through a range of academic opportunities, challenging syllabi, co-curricular culture trips, social skills clubs, athletic events, and extracurricular activities.
What exactly does it mean for the content of student life at SKIS? 
ACADEMIC
– academic instruction in English & German, delivered in adherence with international standards
– supervised homework time
– study materials
– personal laptop (rent) and access to school computers
– graphical calculator (for Math)
– study materials (textbooks, workbooks, stationery, dictionaries, etc)
– access to academic excellence center
– career counseling workshops
– participation in school-held forums and events
– school-staged plays, costumes, makeup, dance and acting workshops
BOARDING
– accommodation in a spacious, newly renovated en-suite room of 22-40 m2
– shared desk with adjustable lighting and a shared bathroom with two sinks
– use of magnet walls for decoration of personal space
– weekly laundry service (for school uniform)
– 6-meals-a-day menu crafted by nutritional experts
– diverse food plans to accommodate students with dietary restrictions
– round-the-clock security and supervision throughout the castle
– regular medical check-ups
EXTRACURRICULAR ACTIVITIES
– frequent co-curricular day trips
– diverse sports and extracurricular activities
– daily pre-breakfast stretching and fitness routine
– talent development workshops
– theater club
– art classes
– gardening workshops
– kitchen club
– crafting
– debate club
– school music band
– photography and writing across the media
– sewing tutorials
– astronomy club
– scating
– biking
EXTRA CHARGE
– additional language acquisition support, if required
– long school trips (multiple days travel)
– visa support
– medical insurance
– school uniform
– sports uniform
– airport transfer
– transfer services at personal request
– IP telephone calls
– mountain skiing
– swimming
– tennis
Come to Schloss Krumbach International School to navigate your future as an informed and brilliantly educated young individual, surrounded by international friends within a castle-community that truly cares.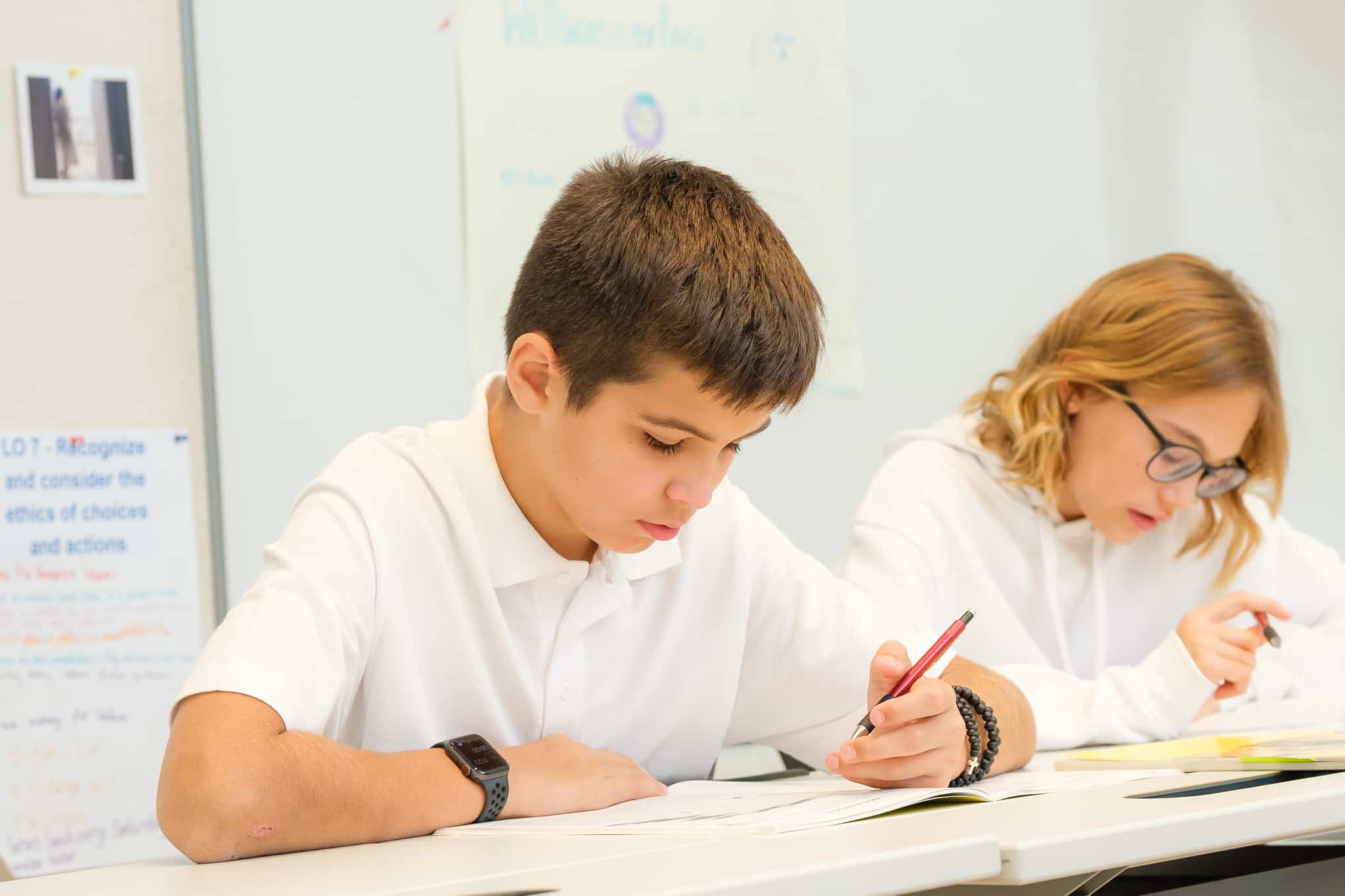 Placement Tests

SKIS upholds high institutional standards: it is a school for children striving to study and achieve. To be admitted to the school, students undergo a robust selection process, based on the subject assessments and personal interviews. We also evaluate the motivation and aims of the family – a successful cooperation is only possible if we share values and views. Whether it is school staff, students or parents, all members of our school community should be on the same page.
As a part of student's application to Schloss Krumbach International School, our pedagogical team conducts placement tests – in the form of online oral knowledge assessments – across the following subjects:
English
Mathematics
Societies
Sciences
German for Middle school (grade 7-9)
Once the subject assessments have been completed, we provide feedback, identify applicant's strengths and weaknesses and advise on how to prepare for the upcoming academic year at SKIS. For students, whose level of English or German needs to be enhanced prior to their entrance to the school, SKIS Online Intensive Summer Course is a viable and recommended option.
Please note that subject assessments are accessible only to the applicants who have paid the Application Fee (€ 300).
Admissions requirements

The admissions committee will grant admission to student who
– shares and supports the mission and pedagogical values of the school, its commitment to social responsibility and digital detox
– demonstrates strong academic knowledge and motivation for constant achievement
– strives to benefit from all the learning and extracurricular opportunities offered by the school
– demonstrates understanding and readiness to comply with the school rules and policies
Specific Academic Requirements
A student shall demonstrate an academic record of marks between 5 and 7 – SKIS equivalent grading scale in all subjects assessed during the admissions process; at the discretion of the Admissions Committee, a score of 4 in one subject will be accepted if all other entrance examinations scores are between 5 and 7.
Apply to Schloss Krumbach International School
More Information